Receptor radio Creasol universal cu un canal Creasol UniRec1
Receptor universal pe frecventa multipla cu un canal. Destinat sa lucreze cu orice echipament electronic de tensiune scazuta, ca un comutator, in special pentru automatizari porti, bariere electrice, etc... Compatibil cu aproape orice telecomanda radio vanduta in magazin, peste 60 de modele. Iesirea este pe optocuplor, si poate fi alimentat la o tensiune intre 7÷30Vdc sau 5÷24Vac. Frecventa de operare este selectata din comutatorul de tact pe urmatoarele frecvente: 315, 433.92, 868.3, 288, 300, 303, 306, 310, 318, 330, 390, 403.55, 418 MHz Dimensiuni foarte mici: 29x29x11mm. Vandut in ambalaj de 66x110x15mm, cu instructiuni in 2 sau mai multe limbi. Puteti vedea la urmatorul link compatibilitatile, modul de programare si instalare: http://www.creasol.it/en/products/radio-receivers/81-creasol-unirec1-short-range-universal-multi-frequency-receiver.html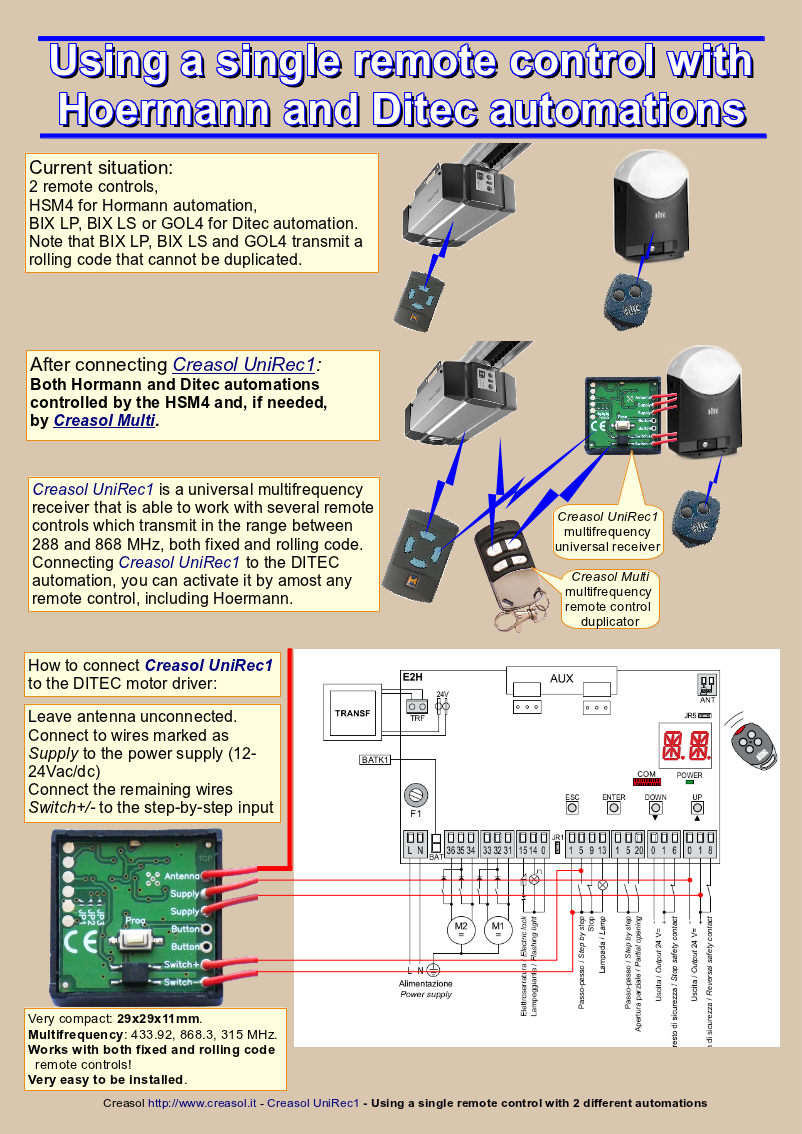 Telecomenzi compatibile cu Creasol UniLock, Creasol UniRec1 si Creasol UniRec2
Company
Frequency
Models
Photo
Number of different codes that can be learned
Frequency value (cmd=5)
Modulation (cmd=9)
Notes
ADYX
433.920
Adyx ALIZE EM2C, ALIZE EM4C
60
2
1
Adyx BRAVO TE4433H
40
2
1
ACM
434.150
ACM TXMEMO (memoradio)
40
16
1
AETERNA
433.920
Aeterna TX433 1,2,4 buttons
60
2
1
ALLMATIC
306.000
Allmatic ASMX2, ASMX4
60
8
1
Transmission frequency must be accurate and stable
433.920
Allmatic AEMX1, AEMX2, AEMX4
60
2
1
Allmatic EUROPE AUTO ARMY1, ARMY2, ARMY4
60
2
1
AllmaticMX1, MX2, MX4
60
2
1
Allmatic BRO1WN, B.RO2WN, B.RO4WN, B.ROSTAR, B.RO ministar
40
2
1
Allmatic TECH3, BROOVER, BROSTAR
40
2
1
Allmatic PASS1, PASS2, PASS4
40
2
1
ALLSTAR
288.000
Allstar Corporation Model 111025 pulsare quickcode
48
5
1
Be sure that transmission frequency is exactly 288 MHz
8833OCS-288
48
5
1
Be sure that transmission frequency is exactly 288 MHz
9921T-288, 9921MT, 9921TK, 9922T-288, 9923T-288, 9931-288, 9931T-288, 9931MT, 9931TK, 9931TK6, 8831T-288, 8832T-288, 8833T-288,8821T-288, 8822T-288, 8823T-288, 8832TK
48
5
1
Be sure that transmission frequency is exactly 288 MHz
ALLTRONIK
433.920

Alltronik S429_1, S429_2, S429_4, S429_M

Be sure that your remote operates at 433.92MHz!



40
2
1
Alltronik S425
40
2
1
ALULUX
868.300
Alulux 868-2, Alulux 868-4br
3
32
1
ANSONIC
433.920
Ansonic SA 434-1E, SA434-2E, SA434-3E, SA434-4E
60
2
1
Ansonic SA 434-1MINI, SA434-2MINI, SA 434-2Midi
60
2
1
868.350
Ansonic SA 868-1E, SA 868-2E, SA868-3E, SA868-4E
60
3
1
Ansonic SA 868-1mini/M, SA 868-2mini/M (dip switch version)
60
3
1
APERTO
433.920
Aperto CPS1, CPS2, CPS
60
2
1
434.420
Aperto 4013
40
17
2
Aperto 4022
40
17
2
APRIMATIC
433.920
Aprimatic TR2, TR4
40
2
1
Aprimatic TX2M, TX4M
40
2
1
APRITECH
433.920
Apritech Terra Copy
?
2
1
This is a duplicator: maybe some codes will not be managed by the receiver
Apritech Terra 433, Apritech Mars 433
40
2
1
868.300
Apritech Mars 868
40
3
1
AVIDSEN
433.920
Avidsen 100601 micromark MM23164
34
2
1
Avidsen 104505
34
2
1
Avidsen 100951, 100955, 100550, 100400
34
2
1
Avidsen TOV 4 104700, ASTRELL, 104250, 614700
26
2
1
BANDY
433.920
variable
2
1
Not sure it work, because this is a duplicator: check the original remote control
BELFOX
433.920
Belfox DHS433-1, DHS433-2, DHS433-4, dip switch version
60
2
1
Belfox DHS 433,92 (7733), dip switch version
60
2
1
868.350
Belfox DHS 868,3, dipswitch version
60
3
1
Belfox HS 868-20
60
3
1
BENINCA'
306.000
Benincà LOT1A, LOT2A, LOT4A
60
8
1
Transmission frequency must be accurate and stable
Benincà LOTX1A, LOTX2A, LOTX4A
60
8
1
Transmission frequency must be accurate and stable
Benincà LO.TX2PS
60
8
1
Transmission frequency must be accurate and stable
433.920
Benincà LOT1W, LOT2W, LOT4W
60
2
1
Benincà LOT2WMS
60
2
1
Benincà T2WK, T4WK, LO.T2WVMR, Benincà LO.T1WCV, LO.T2WCV, LO.T4WCV
Benincà Cupido2 CU.2RWV, Benincà Cupido4 CU.4RWV, Benincà Rollkey
40
2
1
Benincà LOTX1W, LOTX2W, LOTX4W
60
2
1
Benincà TO.GO2WP, TO.GO4WP, TO.GO2WK, TO.GO4WK
60
2
1

Benincà IO.COLOURS, IO.GREY, TO.GO2WV, TO.GO4WV, APPLE.2, APPLE.4
benincà cupido CU.2NWV, CU.2RWV, CU.4NWV, CU.4RWV
benincà T2WV, T4WV
Benincà ROLLKEY

Several images
40
2
1
BERNAL
868.500
Bernal MT87A3-2, Bernal MT87A3-4
40
18
1
Bernal MT87A1, Bernal MT87A2, Bernal MT87A4
40
18
1
Bernal Pico 868-2, Bernal Pico 868-4, Bernal Pico III
40
18
1
ZULLAN
315.000
250TXA1H, 250TXA2H, 250TXA4H
BERNER
868.300
Berner BHS140
30
3
1
Berner BHS130
34
3
1
BESIDE
433.920
Beside BEZAP
60
2
1
Beside HIT
60
2
1
BETA ELETTRONICA
315.000
BETALARM 6500
60
4
1
Transmission frequency must be accurate and stable
330.000
BETALARM 5500
60
11
1
Transmission frequency must be accurate and stable
BFT
306.000
BFT RCS
60
8
1
Transmission frequency must be accurate and stable
315.000
BFT VTM1, VTM2, VTM4
60
4
1
Transmission frequency must be accurate and stable
418.000
BFT GT01, GT02, GT04
60
14
1
433.920
BFT TE01, TE02 ( TEO1, TEO2 )
60
2
1
BFT TE04 ( TEO4 )
60
2
1
BFT MITTO 2, MITTO 4, MITTO-2A, BFT MITTO-4A, MITTO-2M, MITTO-4Mi
BFT MITTO4 REPLAY, BFT MITTO2 REPLAY
BFT TRC 1, TRC 2, TRC 4
BFT MITTO B RCB04 R1, BFT MITTO B RCB02 R1
40
2
1
BOSS Openers
STEEL-LINE Automation
Centurion
Guardian
303.000
BOSS HT4 6211-L 1,2 and 4 buttons, Boss BHT4, Boss HT3 blue led, Guardian 2211-L, Centurion 2211L, LYNX 2211L, MODERN 2211L 1 and 2 BUTTONs, STEEL-LINE 2211L 1, 2 and 4 BUTTON, STEEL-LINE HT3 BLUE LED, Garage Door Openers BRD1, BRD2, BRD3, BRD4, BRD9, RD1, RD2, RD3, RD4, RD9, BOL4, BOL5, BOL6, BOL9, OL4, OL5, OL6
40
7
1
Only versions since March 2017: ask for confirmation
Transmission frequency must be accurate and stable
BRAVO
433.920
Bravo Aladin 433
?
2
1
Bravo Door Passepartout
2
1
433.920
868.300
Bravo Aladin Passepartout
2 or 3
1
BREDA
433.920
Breda TOP432SA
60
2
1
CAME
315.000
Came T312M, T314M
Came TOP314M, TOP312M
60
4
1
Transmission frequency must be accurate and stable
Came TOP312, TOP314
60
4
1
Came TOP312NA, TOP314NA
60
4
1
433.920
Came T432, T434
Came TOP432A, TOP434A, TOP432, TOP432NA, TOP434NA, Came Came TAM432, TAM434, TAM438
60
2
1
Came TOP432M, TOP434M
60
2
1
Came TAM432SA
48
2
1
Came TOP432SA, Came TOP434SA
60
2
1
Came TOP432NA, TOP434NA
60
2
1
Came TWIN2, TWIN4
60
2
1
CAME TOP-432EE, CAME TOP434EE
60
2
1
CAME TOP-432EV, TOP-434EV
60
2
1
868.350
CAME TOP862NA, Came TOP864NA
60
3
1
CAME TOP-862EV, Came TOP864EV
60
3
1
CARDIN
300.000
Cardin S300
60
6
1
Transmission frequency must be accurate and stable
310.000
Cardin S301, S302
60
9
1
Transmission frequency must be accurate and stable
433.920
Cardin S435 TX2, S435TX4, S435-TX12, TRS435200, TRS435400, TRS435400, TRS43540M
Ballan S435-TX2, Ballan S435-TX4
40
2
1
Cardin S437 TX2
40
2
2
Cardin S449 QZ1, S449-QZ2, S449-QZ3, S449-QZ4, TXQ449100, TXQ449200, TXQ449300, TXQ449400
Cardin S449 TXQ4492P0, TXQ4494P0, SSB-T9K4
Ballan S449-QZ2, Ballan S449-QZ4
40
2
2
Cardin S476 TX2, S476TX4, TRS476200, TRS476400
48
2
1
868.300
Cardin S486 TX2, S486TX4, TXQ486100, TXQ486200, TXQ486300, TXQ486400
TXQ4862P0, TXQ4864P0, TXQ48640M, SSB-T8K4
40
3
2
CARPER
318.000
Carper C318, C318T
48
10
1
Be sure that transmission frequency is set accurately
CASIT
306.000
ERTS92B, ERTS92T
60
8
1
Transmission frequency must be accurate and stable
433.920
Casit ERTS92B, ERTS92T
60
2
1
Casit ERTS20DB, ERTS20DQ
60
2
1
Casit ERTS476D, ERTS476Q
60
2
1
Casit TXS1, TXS2, TXS3, TXS4, TXS6
ERTS97B, ERTS97T
60
2
1
CEDAMATIC
433.920
Cedamatic AEMX1, AEMX2, AEMX4
60
2
1
CELINSA
433.920
Celinsa S10 1, S10 2, SAW1, SAW2
48
2
1
CENTURION
433.920
Centurion CLASSIC, SMART, SMART2
60
2
1
CHACON
433.920
Chacon KCT-510 Ref. 54591, compatible with DOMIA protocol for domotic appliances
Chacon LKCT-614 Ref. 54591, compatible with Home Easy protocol
48
2
1
Chacon LYCT-505 Ref. 54561, compatible with HOME EASY protocol for domotic appliances
21
2
1
CHAMBERLAIN
LIFTMASTER
MOTORLIFT
SEARS CRAFTSMAN
300.000
Chamberlain 300MC (multicode)
1
Not still supported!
315.000
Liftmaster 333LM
1
Not still supported!
Liftmaster 360LM, 362LM, 363LM
1
Not still supported!
390.000
Liftmaster 50CB, 53CB, 750CB, 753CB, 50LM, 53LM, 61LM, 62LM, 63LM, 139.53100, 139.53110, 139.53200, 139.53210
1
Not still supported!
LiftMaster 54CB, 756CB, 54LM, 64LM, 859CB
1
Not still supported!
LIftmaster 850CB, 853CB, 959CB, 81LM, 82LM, 83LM, 84LM, 99LM
1
Not still supported!
33LM
1
Not still supported!
418.000
4180, 4182, 4183
1
Not still supported!
4185
1
Not still supported!

787 remote

less entry

1
Not still supported!
433.920
4330E, 4332E, 4333E
1
Not still supported!
4335E
1
Not still supported!
COMUNELLO
433.920
Comunello Keep2 RC, Comunello Keep4 RC
40
2
1
434.150
Comunello MOWIN R1, Comunello MOWIN R6
40
16
1
CPS
433.920
TCP3, CPS, Jolly 4
60
2
1
CPS1 TCP3, CPS2 TCP3, CPS4 TCP3
EM1CV, EM2CV, EM4CV
60
2
1
CRAWFORD
433.920
Crawford EA433 2K, EA433 2KM, EA433 4K
40
2
1
DASPI
433.920
Daspi Happy2 433, Daspi Pops2
60
2
1
Daspi Zero2, Zero2CLO, Zero4CLO


60
2
1

Daspi Zero2RC
Daspi Zero4RC

40
2
1
DEA
306.000
Dea 306 1, 306 2, 306 4
60
8
1
Transmission frequency must be accurate and stable
Dea 306
60
8
1
Transmission frequency must be accurate and stable
433.920
Dea 433 1, 433 2, 433 4, Gold S1, Gold S2
Dea Gold 238 S1, Dea Gold 238 S2, Dea Gold 239 S4
60
2
1
Dea Gold 288-R2, Dea Gold 289-R4
40
2
1
Dea Genie 263
60
2
1
Dea Punto S2
60
2
1
Dea MIO TD2, MIO TD4
Dea Mio TRD2, Dea Mio TRD4
60
2
1
Dea MIO TR2, MIO TR4
40
2
1
Dea Genie 273,
40
2
1
DELMA
300.000
Delma Apollo 300, ELSAMEC Apollo 300
60
6
1
Transmission frequency must be accurate and stable
Delma Mizard 300 1, Mizard 300 2, King
60
6
1
Transmission frequency must be accurate and stable
433.920
Delma Mizard 433 1, Mizard 433 2
60
2
1
Delma King 433 2
60
2
1
Delma Style Copy 2CH (this is a code duplicator)
60
2
1
DICKERT
433.920
Dickert MAHS433 01, MAHS433 04
Note: we can NOT guarantee that it can be duplicated, because it depends by the receiver.
1
Not still supported!
Dickert S10-433A1L00, S10-433A4L00, S20-433A1L00, S20-433A4L00, S20-433A1000, S20-433A4000
Note: only RED buttons model can be duplicated!
60
2
1

Dickert S5-433-A2L00, S5U-433-A2L00
Note: only RED buttons model can be duplicated!

60
2
1
868.350
Dickert HS868-21
Note: only RED buttons model can be duplicated!
60
3
1

Dickert S5-868A2L00, S5U-868A2L00
Note: only RED buttons model can be duplicated!

60
3
1
Dickert S10-868A100, S10-868A400, S20-868A1L00, S20-868A4L00, S20-868A1000, S20-868A4000
Note: only RED buttons model can be duplicated!
60
3
1
Dickert S5-868A2L01, S10-868A1L01, S10-868-A4L06, green buttons
34
3
1
Firmware Rev.03c or later
Dickert S10-868A1L01 Yellow button
34
3
1
Firmware Rev.03c or later
DIGICODE
300.000
310.000
Digicode DC5010, DC5012, DC5030, DC5032, DC5040, DC5042, DC5060, DC5062, DC5070, DC5072
60
6 or 9
1
Transmission frequency must be accurate and stable
DITEC
433.920
Ditec GOL4C
60
2
1
Ditec GOL4, Entrematic GOL4

34
2
1

BIX LS2, BIX LP2, BIX LG4

34
2
1
DOITRAND
433.920
MPSTF2E JAUNE, MPSTF4E, HYPERPHONE MPSTF2E_GRISE
60
2
1
TS2DE, TS4DE
60
2
1
DOORHAN
433,920
Doorhan transmitter 2, Doorhan Transmitter 4
Doorhan RCBLACK-4, Doorhan ST-4
40
2
1
DOORMATIC
433.920
Doormatic SAW
60
2
1

DUCATI
ALLDUCKS

433.920
Allducks TSAW1, TSAW2, TSAW3, TSAW4, 124
ELBER TSAW1, TSAW2, TSAW3, TSAW4
RONDY TSAW1, RONDY TSAW2, RONDY TSAW3
60
2
1
Allducks TPR10-A, TPR20-A
RONDY TPR10_A, RONDY TPR20_A
60
2
1
Allducks TE2
60
2
1
Allducks 6203blue and transparent, with transparent buttons

60
2
1
Allducks 6203, with blue or red buttons
40
2
1
Allducks HC6204
40
2
1

DÜWI
DUWI
REV Ritter

433.920
Several models, handsender used for radio sockets
60
2
1
ELBE
433.920
Elbe 501, 502, 504
60
2
1
Elbe 502a, 504a
60
2
1
Elbe 502, 504
60
2
1
ELCA
300.000
Elca Aster 1100, Aster 1101
60
6
1
Transmission frequency must be accurate and stable
433.920
Elca IRIS, IRIS 9CH.
Both colors red and blue
Elca Iris4_433D, Elca Iris2_433D
60
2
1
Elca ASTER2
60
2
1
Elca Aster 1000, Aster1001.
Colors: black, blue, light grey
60
2
1
Elca GEMINI 9CH, Elca Gemini2_433D, Elca Gemini4_433D
60
2
1
Elca VIRGO
60
2
1
Elca IRIS2_433R, Elca Gemini2_433R, Elca Gemini4_433R
40
2
1

ELDAT
MFZ
NASSAU

433.920
Eldat Basewave RT20-4103M-01, RT20-4104M-01, Eldat RT20-4k, Eldat RT35-4104M-01, RT35-4k, Eldat RT21-4101M-01, RT21-4102M-01, MFZ 400033, MFZ RT20-4104M-01
2
1
Eldat Basewave RT28-4101M-01, RT27-4101M-01, RT26-4101M-02, RT21-4125M-01, RT21-4139M-01, RT21-4139M-02, RT31-4139M-01, RT31-4139M-02, RTC02-4104M-01
2
1
868.300
Eldat Basewave RT20-5004M-01, RT20-5003M-01, Eldat RT20-5k, Eldat RT35-5004M-01, RT35-5k, Eldat RT21-5001M-01, RT21-5002M-01, NASSAU RT20-4K
3
1
Eldat Basewave RT28-5001M-01, RT27-5001M-01, RT26-5001M-02, RT21-5025M-01, RT21-5039M-01, RT21-5039M-02, RT31-5039M-01, RT31-5039M-02, RTC02-5004M-01
3
1
Eldat Easywave RT20E5004-01-23K, RT21E5001-01-23K, RT21E5002-01-23K, RT30E5001-01-02K, RT30E5001-01-22K, RT30E5004-01-02K, RT30E5004-01-22K
Eldata Easywave RT24E5001-01-01K, RT32E5001-01-02K, RT32E5001-01-22K, RT32E5004-01-02K, RT32E5004-01-22K
Eldata Easywave RT34E5004-01-02K, RT34E5004-01-22K, RT34E5005-01-02K, RT34E5005-01-22K, RT34E5010-01-02K, RT34E5010-01-22K
Eldata Easywave RT37E5001-01-02K, RT37E5001-01-22K, RT22E5022-01-23K
40
3
3
Work very well, Long range!
Eldat Easywave RT26E5001-12-23K, RT27E5001-11-23K, RT28E5001-11-23K, RT28E5001-11-41K
40
3
3
Work very well, Long range!
Eldat Easywave RTS05E5001-01-02K, RTS05E5001-02-02K, RTS08E5002-01-02K, RTS08E5001-01-02K, RTS08E5001-01-02K
Eldat Easywave RTS13E5001-01-02K, RTS13E5003-01-02K, RTS14E5002E-01-02K, RTS14E5002E-02-02K, RTS14E5003E-01-02K, RTS14E5006E-01-02K
Eldat Easywave RTS14E5002E-01-02K, RTS14E5002E-02-02K, RTS14E5003E-01-02K, RTS14E5006E-01-02K
Eldat Easywave RTS40E5001-01-02K, RTS40E5001-02-02K, RTS22E*, RTS23E*, RTS25E*, RTS32E*, RTS33E*, RTS34E*, RTS35E*
Eldat Easywave RTS09E5002-01-02K
40
3
3
Work very well, Long range!
Eldat Easywave RTS03E5004-01-27P, RTS03E5004-02-27P
Eldat Easywave RTS17E5001-01-00K
Eldat Easywave RTS39E5003-02-23K
40
3
3
Work very well, Long range!
ELVOX
433.920
Elvox ET, Elvox ET2 ZT03
60
2
1
Elvox ET03, ET04
60
2
1
Elvox ERT01
40
2
1
Elvox ERT4, Elvox ETR01, Elvox ETR02, Elvox ETA1
40
2
1
868.350
Elvox ET08
60
3
1
ENIKA
433.920
Enika, all types: Enika Tx Cross, Enika Tx Key, Enika Tx Pocket, Enika Tx 4x8 3299-96900, Enika Tx Auto
40
2
1
ERONE
433.920
Erone SETDS39433E2, SETDS39433E4
60
2
1
Erone SETR2641-AM2.B, SETR2641-AM2.N, SETR2641-AM2.R, SETR2641-AM2.C, SETR2641AM1, S5TR2641E2, S5TR2641E4, S2TR2641-E2M, SETR2641-TM, TSW2641E1
40
2
1
868.350
Erone S2TR2681-E2, 2TR2681-E4, 2TR2681-E2M
40
2
1
ERREKA
433.920
Erreka LUNA, SMAT RESON 1, RESON 2, Erreka RESON 3


48
2
1
Erreka ROLLER-1, ROLLER-2, Erreka ROLL-2 JOY, Erreka Roll-4 JOY, Erreka LIRA, Erreka IRIS 2, IRIS 4




40
3
1
868.300
Erreka Roller 1 868, Roller 2 868, Erreka Roller 4 868


40
4
1
EUROPE AUTOMATISME
306.000
ASMY1, ASMY2, ASMY4
60
8
1
Transmission frequency must be accurate and stable
433.920
ARMY1, ARMY2, ARMY4
60
2
1
S1, S2, S3
60
2
1
FAAC
300.000
Faac TM300S, TM300S05 H
Faac TM1 300, TM2 300, TM3 300
34
6
1
Transmission frequency must be accurate and stable
315.000
Faac T1, T2, T3
Faac TM1 315, TM2 315, TM3 315
34
4
1
330.000
Faac TM1, TM2, TM3
Faac TM1 330, TM2 330, TM3 330
34
11
1
418.000
Faac TM1 418 DS, TM2 418 DS, TM3 418 DS
34
14
1
Faac TM 418SL, TM1 418SL, TM2 418 SL, TM3 418SL
34
14
1
433.920
Faac TM1 433 DS, TM2 433 DS, TM3 433 DS
TM1 433DS DPH, TM2 433DS DPH, TM3 433DS DPH
60
2
1
Faac Fix2, Faac Fix3, Faac Fix4
40
2
1
Faac TML2 433 SLR, TML4 433 SLR, TML2-433-SLR, TML4-433-SLR, TML2 433 ESL, TML4 433 ESL
34
2
1
Faac TML2 433 SLP, TML4 433 SLP, TML2-433-SLP, TML4-433-SLP
34
2
1
Faac T2 433 SLH, Faac T4 433 SLH
40
2
1
Faac TE4433H
40
2
1
Faac TML2 433 SLH, TML4 433 SLH
40
2
1
Faac XT2 433 SLH, XT4 433 SLH, LR
40
2
1
868.350
Faac TM1 868 DS, TM2 868 DS, TM3 868 DS
Faac TM1 868DS DPH, TM2 868DS DPH, TM3 868DS DPH
60
3
1
Faac T2 868 SLH, Faac T4 868 SLH
40
3
1

Faac TML2 868 SLH, TML4 868 SLH

40
3
1
Faac XT2 868 SLH, Faac XT4 868 SLH, LR
40

3

1
Faac DL2 868 SLH, DL4 868 SLH
40
3
1

FADINI

BPT

315.000
ASTRO75-1, ASTRO75-2, ASTRO75-4
60
4
1
Transmission frequency must be accurate and stable
433.920
433 2M, Astro43_2m
60
2
1
Astro433-2, Astro433-4, Astro43-2, Astro43-4
60
2
1
Fadini JUBI 433/2, JUBI 433/4, Fadini JUBI SMALL 433/2
40
2
1
Fadini SITI 2, Fadini SITI 4
40
2
1
868.350
Fadini BIRIO 2, Fadini BIRIO 4
40
3
1
FERPORT
433.920
Ferport Tac1, Tac2, Tac4, Tac1k, Tac2k, Tac4k, Tac2kr
60
2
1
FUNKMODUL
ELSECO
433.920
Elseco T433A2K1, T433A2K2
60
2
1
Elseco T433A2K4, T433A2K4n
60
2
1
GAPOSA
434.150
Gaposa QCT1, QCT3, QCT6, QCTD, QCTAB, QCT3S, QCT34S
40
16
1
GENIUS
CASALI
330.000
60
11
1
Transmission frequency must be accurate and stable
433.920
Genius 433 2, Genius 433 3, Genius JA400 TM433, Genius JA401 TM433
Genius TM2433DPH, Genius TM3433DPH
60
2
1
Genius A252, Genius A254
Genius TRS4532C1, TRS4534C1
40
2
1
Genius BRAVO TE4433H
40
2
1
Genius Echo TX2 RC, Genius Echo TX4 RC
40
2
1
868.350
Genius Amigo JA332, Genius Amigo JA334, JA332 grey, JA334 grey
40
3
1
Genius Amigold TK2868SLHDL, Genius Amigold TK4868SLHDL
40
3
1
Genius Kilo TX2 JLC, Genius Kilo TX4 JLC
40
3
1
GIBIDI
306.000
Gibidi TS2M
60
8
1
Transmission frequency must be accurate and stable
433.920
Gibidi Open TMB 433, Gibidi OPEN TMQ 433, Gibidi OPEN OUT 2, Gibidi OPEN OUT 4
Gibidi Open/2 TM/B, Gibidi Open/4 TM/B
60
2
1
Gibidi Domino4 AU 03000 - DTS4334, AU1600, AU1610, AU1680, AU1680 wood, AU1810
Gibidi Roller2-AU1600, GIBIDI Roller AU01590, GIBIDI Roller AU01680
40
2
1
GILGEN
433.920
Gilgen F7000/S4, Gilgen F7000/S2
34
2
1
GOBBATO
306.000
Gobbato T306
60
8
1
Transmission frequency must be accurate and stable
433.920
Gobbato TRA3S, Gobbato TRA433P, Gobbato TRA433
40
2
1
GRIFFON
403.55
Griffon 404 MHz dip switch remotes and duplicating remotes
60
13
1
433.92
Griffon 433 MHz dip switch remotes and duplicating remotes
60
2
1
GTO
318.000
GTO Mighty Mule 1/2 buttons, RB741, RB742
1
Not still supported!
GTO Mighty Mule 3 buttons, RB743
1
Not still supported!
GULLIVER
306.000
Gulliver MD/1, Gulliver MD/1, Gulliver MDRQ 306 LABEL
60
8
1
Transmission frequency must be accurate and stable
433.920
MDW 2E
60
2
1
HAUSS
433.920
Pocket 3750-1, Pocket3750-2, Pocket 3750-4
60
2
1
HEDDOF
318.000
P219-1, P219-2
1
Not still supported!
P220-1, P220-2, P220-3
1
Not still supported!
HORMANN
HOERMANN
433.920

Hormann HSM2, HSM4, yellow buttons

30
2
1
868.300
Hoermann HS1, HS2, HS4, blue buttons




30
3
1
Hormann HSD2
30
3
1
Hoermann HSE2, HSE4, blue buttons
30
3
1
Hoermann HSM2, HSM4, blue buttons
30
3
1
Hormann HSP4, blue buttons
30
3
1
Hoermann HSS2, HSS4, blue buttons
30
3
1
Hormann HSZ1-868, HSZ2-868
30
3
1
HRC
433.920
60
2
1
ITALFILE
433.920
Italfile JANE-F 433MHz
2
1
This is a duplicator: maybe some codes cannot be copied
433.920
868.300
Italfile JANE-V Multifrequenza
2 or 3
1
This is a duplicator: maybe some codes cannot be copied
JAY
433.920
Jay UBEI x1 SL1
60
2
1
Jay UBET 11, UBET 21, UBET 31, UBET 41, UBET 61Â
60
2
1
KEY AUTOMATION
433.920
Key Automation 900TXB-42, 900TXB-42N, 900TXP-42, 900TXP-42N
60
2
1
key 900TXB-44, 900TXG-44
60
2
1
key automation 900SUB-44, 900SUB-44N, 900SUB-44W, 900SUB-44WN
60
2
1
key 900TXK-42, 900TXW-42,900TXK-44, 900TXW-44
60
2
1
Key automation TXB-42R, TXP-42R
Key TXG-42R, TXG-44R, TXB-42R, TXB-44R
Key automation SUB-44R
Key TXW-42R, TXW-44R, TXK-42R, TXK-44R




40
2
1
KING
433.920
1
Not yet supported!
LABEL
IUPPITER
306.000
Label MDR, IUPPITER 306
60
8
1
Transmission frequency must be accurate and stable
433.920
Label RJW/1E, RJW/2E, RJW/4E, RJW/12E
60
2
1
Label MDW/1E, MDW/2E
60
2
1
Label SPYCO1/E, SPYCO2, SPYCO3
40
2
1
LEB
306.000
Leb TSA4
60
8
1
Transmission frequency must be accurate and stable
433.920
Leb TMW
60
2
1
Leb TSAW2N, TSAW4N
60
2
1
Leb TCP3 (this is a code duplicator)
Variable
2
1
Not sure it work, because this is a duplicator: check the original remote control
Leb TRK4
60
2
1
Leb TPW4
60
2
1
868.300
Leb TPK4
60
3
1
LEGRAND
433.920
Legrand CAD 48900, 48901, 48903.
Legrand CAD 48906, 48910, 48912
48
2
1
LINCE
433.920
Lince LR 2035
60
2
1
LINEAR

300.000
310.000

Linear MULTI-CODE 308911, 308913, 1089
60
6 or 9
1
Transmission frequency must be accurate and stable
Linear MULTI-CODE 412001, 414001, 109410, 109710
60
6 or 9
1
Transmission frequency must be accurate and stable
Linear MULTICODE 306010, 307010, 108210
60
6 or 9
1
Transmission frequency must be accurate and stable
Linear MULTI-CODE 308301, 308302
60
6 or 9
1
Transmission frequency must be accurate and stable
Linear MULTICODE 105015
60
6 or 9
1
Transmission frequency must be accurate and stable
310.000
Linear Delta3 Moore-o-Matic: DT, DT2, DT2A, DT22A, DTC, DTD
60
9
1
Not still supported!
Linear Delta 3 Moore-o-Matic: DT3, DT4
60
9
1
Not still supported!
Delta 3 Moore-o-Matic: Mini-T LB "LadyBug"
60
9
1
Not still supported!
312.000
Delta3 DTK (canada)
1
Not supported
LUTEC
433.920
Lutec TRC2, Lutec TRC4
40
2
1
MA SYSTEM
433.920
MA TX1, MA TX2, MA TX3
60
2
1
MARANTEC
315.000
Marantec M3-2312, Marantec M3-3313
34
4
1
418.000
Marantec D212, D222, D232
34
14
1
433.920
Marantec D101
60
2
1
Marantec D12
60
2
1
Marantec D212, D222, D232
60
2
1
Marantec Digital 302, D302
34
2
1
Marantec Digital 304, D304
34
2
1
868.300
Marantec Digital 302, D302
34
3
1
Marantec Digital 304, D304
34
3
1
MCZ
433.920
MCZ Aster
60
2
1
MEIßNER
MEISSNER
433.920
LW433-1, LW433-2, LW433-4
60
2
1
Pocket 3750 1, 2, 4
60
2
1
MONSEIGNEUR
433.920
ARC2, ARC4
60
2
1
TDR 400 3845, TDR 400 3846, TDR 400 3847
T1SAW433, T2SAW433, T4SAW433
60
2
1

MOTORLINE
STATEUROP

433.920
MX1, MX2, MX3, MX4, MX6
MX11, MX12, MX13


60
2
1
MOTOSTAR
433.920
CLIKSTAR2, CLICKSTAR4
CLICK-4M, CLICKSTAR RE 532, CLICKSTAR RE 534
60
2
1
NICE
306.000
Nice EASY S1, S2, S4
60
8
1
Transmission frequency must be accurate and stable
433.920
Nice FLO1, FLO2, FLO4
60
2
1
Nice VERY VE
60
2
1
Nice SMILO SM2, SM4, black or blue
40
2
1
NOLOGO
306.000
60
8
1
Transmission frequency must be accurate and stable
433.920
ECO DIP
60
2
1
NORMSTAHL
433.920
Normstahl EA433 2K, Normstahl EA433 2KM, Normstahl EA433 4K
40
2
1
Normstahl RCU 433 2K, Normstahl RCU 433 4K
40
2
1
NOVOTECNICA
306.000
BIT N1, BIT N2
60
8
1
Transmission frequency must be accurate and stable
BIT NT1, BIT NT2, BIT NT4
60
2
1
433.920
Novotecnica BIX L2, BixL2
40
2
1
OG
433.920
OG62, OG64
34
2
1
O&O
OeO
O and O
360.000
OeO TX2, OeO TX4 (green buttons)
60
8
1
Transmission frequency must be accurate and stable
433.920
OeO TX2-E, OeO TX4-E (red buttons)
60
3
1
O&O T-COM DS 4-2, T-COM DS 4-4
60
2
1
OeO T-COM R4-2, O&O TCOM R4-4
40
2
1
OeO ELIOT 2 - R4, O&O ELIOT 4 - R4
40
2
1
O&O Ray2
40
2
1
868.350
OeO T-COM R8-2, O&O TCOM R8-4
40
3
1
OPENOUT
306.000
TS2M
60
8
1
Transmission frequency must be accurate and stable
433.920
TMQ 433 2, TMQ 433 4
60
2
1
PIAZZETTA
433.920
4 buttons for wood/pellet heater Piazzetta
60
2
1
PORTAMATIC
433.920
MPH01, MPH02
60
2
1

POWERFIX Profi
(Lidl)

433.920
Powerfix Profi RCB-A 3600R (Lidl)
60
2
1
PRASTEL
306.000
Prastel NCSMT1, NCSMT2P, NCSMT4P
60
8
1
Transmission frequency must be accurate and stable
Prastel KMFT2P, KMFT4P, KMFT2P93, KMFT4P93
60
8
1
Transmission frequency must be accurate and stable
433.920
Prastel MPSTF2E, MPSTF4E
34
2
1
Prastel MPSTL2E, MPSTL4E
34
2
1
Prastel BFOR, Prastel MPSTP2E, Prastel MPSTP4E
40
2
1
PROEM
433.920
Proem ER2C4ACM, ER4C4ACM
60
2
1
PROGET
433.920
Proget ETY_433N2, ETY 433N4
60
2
1
Proget EMY433-N2, Proget EMY 2N, Proget EMY 4N
60
2
1
PROTECO
433.920
Proteco TX433
60
2
1
Proteco EUROMATIC
60
2
1
Proteco HIT
60
2
1
PUJOL
288.000
JCM TRINARIO 1, TRINARIO 2, TRINARIO 3
60
5
1
Transmission frequency must be accurate and stable
Pujol TT1, TT2, TRINARIO 1, TRINARIO 2
60
5
1
Transmission frequency must be accurate and stable
433.920
Pujol P215/2 Vario, Pujol P215/4 Vario
40
2
1
Pujol Vario 433-1, Pujol Vario2 433-2, Pujol Vario3 433-3
40
2
1
PULSAR
318.000
9931-318, 9931T-318
1
Not still supported!
QUICK
433.920
Quick Gangway transmitter. Marine remote control for yacht.
Quick Télécommande pour Passerelle
Mando a distancia marinas para pasarela
Radiocomando QUICK per passerelle su yacht.
34
2
1
Quick Pocket Model 02, Quick Pocket Model 04
34
2
1
ROGER
433.920
Roger R80/TX12, R80/TX14, R80/TX12R, R80/TX14R
40
2
1
Roger H80/TX22
40
2
1
G80/TX32, G80/TX34, G80/TX32R, G80/TX34R
40
2
1
SEA
433.920
60
2
1
Sea SMART433_TX2, SMART433_TX3
SMART433_TX2_COPY,SMART433_TX3_COPY
Smart2, Smart3
60
2
1
868.350
Sea 231103, SEA868_4
60
3
1
Sea 231103, Head2 Dip Switch
60
3
1
Sea SMART868-TX2, SMART868-TX3
Smart2, Smart3
60
3
1
SEAV
306/330
Seav TX1, TX2, TX3, TX4, TX1/330
Seav TX2/330, TX3/330, TX4/330
60
8
1
Transmission frequency must be accurate and stable
433.920
Seav TXS1, TXS2, TXS3, TXS4
60
2
1
Seav Behappy S1, Behappy S2, Behappy S3
60
2
1
Seav Behappy RS1, Seav Behappy RS2, Seav Behappy RS3
40
2
1
Seav Be Easy TX, Be Easy Murale2
60
2
1
Seav BeSmart S2, BeSmart S4
60
2
1
Seav BeFree S1
60
2
1
868.300
Seav BeSmart H2, BeSmart H4
60
3
1
Seav BeFree H1
60
3
1
SECURVERA
433.920
SV R2C
60
2
1
SV R2C
60
2
1
SV R4C
60
2
1
SV R6C
60
2
1
SENDER
433.920
60
2
1

SENTRY

MARTIN ELECTRONICS


403.550
SENTRY binary, SENTRY trinary
60
13
1
433.920
SENTRY binary
60
2
1
SERAI
310.000
Serai OG/32
34
9
1
Transmission frequency must be accurate and stable
433.920
Serai OG/52, Serai OG/54, Serai OG/82, Serai OG/84
34
2
1
Serai OG/28, Serai OG/48, Serai OG/62, Serai OG/64
34
2
1
Serai OG/02, Serai OG/04
34
2
1
SICE
433.920
TX4 CLACK Bigfoot
1
Not supported!
SILVELOX - INTRA
306.000
Green case with black buttons
60
8
1
Transmission frequency must be accurate and stable
433.920
Silvelox Intra HSM4
30
2
1
Silvelox Eco TSM2
40
2
1
Silvelox Silv466
40
2
1
SIMBA
433.920
Simba RC1, Simba RC4
60
2
1
SIMINOR
433.920
ER2C4ACM, ER4C4ACM, ER2C4ACS, ER4C4ACS
60
2
1
SIMU
433.920
Simu TSC4
34
2
1
SKYLINK

300.000
310.000

MultiLink SD300M, Skylink 100, LD310M, SD310M
60
6 or 9
1
Transmission frequency must be accurate and stable
318.000
Skylink Mltilink PD-318M
1
Not still supported!
390.000
Multilink CB-390M, CD-390M
(versions compatible with Chamberlain)
1
Not still supported!
SMD
433.920
LW433-1, LW433-2, LW433-4 : AM models only
60
2
1
SOMFY
433.920
Somfy LEB TMW
60
2
1
Somfy S433-2T, Somfy S433-4T, Somfy 433NL, Somfy Mitto RTR,
40
2
1
SOMMER
434.420
Sommer 4013 TX03-434-4, Sommer 4014V TX03-434-2, Ballan 4013 (GREEN/YELLOW LED)
40
17
2
Sommer 4022 (GREEN/YELLOW LED)
40
17
2
868.800
Sommer 4020 TX03-868-4, Sommer 4026V TX03-868-2 (RED LED)
40
19
2
Sommer 4025, Sommer 4025-BLUE (RED LED)
40
19
2
Sommer 4010, Sommer 4011, Sommer 4031 (RED LED)
40
19
2
STAGNOLI
433.920
Stagnoli ZEUS AZ442
60
2
1
Stagnoli Venus AV222
60
2
1
Stagnoli Kallisto AK442
40
2
1
Stagnoli Venus AV221, Stagnoli Venus AV223
40
2
1
Stagnoli Kallisto AK441, Stagnoli Kallisto AK443
40
2
1
ZEUS AZTR
60
2
1
868.350
ZEUS AZTR
60
3
1
STANLEY
310.000
24286
60
9
1
Transmission frequency must be accurate and stable
1082
60
9
1
Transmission frequency must be accurate and stable
1050
60
9
1
Transmission frequency must be accurate and stable
1094
60
9
1
Transmission frequency must be accurate and stable
1097
60
9
1
Transmission frequency must be accurate and stable
STARTEC
433.920
TXQ2
60
2
1
STINGER
300.000
310.000
318.000
390.000
300MCD21V, 300MCD22V
310MCD21V, 310LID21V, 310LID22V
318ALD31V
390LMD21V, 390LMPB1V

diff. colors
1
This is a compatible remote control: please look for the compatibility of the original retmotes!
TAU
315.000
Tau 250 TXA2H, 250 TXA4H
60
4
1
Transmission frequency must be accurate and stable
433.920
Tau 250 SLIM, 250K-SLIM, 250K-SLIMC
60
2
1
Tau 250 SLIM-SLIMP
40
2
1
Tau 250TXD2, Tau 250TXD4
60
2
1
Tau 250BUG2, 250BUG4
60
2
1
Tau 250BUG2_R, 250BUG4_R
40
2
1
Tau 250T-4, 250T-4C
60
2
1
Tau 250T-4RP
40
2
1
TEC KEY
300.000
MK1010
60
6
1
Transmission frequency must be accurate and stable
TECNOMATIC
433.920
Tecnomatic TQ433
60
2
1
TEDSEN
BERNER
GFA Elektromaten
433.920
SKX1MD, SKX2MD, SKX3MD, SKX4MD
60
2
1
SKX1KD, SKX2KD, SKX4KD, SKX6KD
60
2
1
SKX1DL, SKX2DL, SKX3DL, SKX4DL
60
2
1
SKX1LC, SKX2LC, SKX3LC, SKX4LC
60
2
1
SKX1SL, SKX2SL, SKX3SL, SKX4SL
60
2
1
SKJ
60
2
1
SKX1WD, SKX2WD, SKX4WD, SKX11WD, SKX22WD, SKX44WD
60
2
1
TELCOMA
QUASAR
306.000
RCST2, RCST4
40
8
1
Transmission frequency must be accurate and stable
433.920
TELCOMA EDGE 2, TELCOMA EDGE 4
40
2
1
TELCOMA TANGO 2 SW, TANGO4 SW


40
2
1
TANGO BLUE 2, TANGO 4 BLUE, TANGO BLEU 2, TANGO BLEU 4
40
2
1
TANGO 2 N, TANGO 4 N
40
2
1
TANGO 2 SLIM, TANGO 4 SLIM
40
2
1
Telcoma Noire2, Noire4
34
2
1
TANGO WIN3
40
2
1
TANGO2, TANGO4
40
2
1
TELCOMA FM402E, Telcoma FM404E, Telcoma FM420, Telcoma FM400 TAXI
Ballan FM402E, Ballan FM404E
40
2
2
TELECO
433.920
Teleco TXP433A01
Teleco TXR434A02
Teleco TXR433A01, TXR433A02, TXR433A04
Teleco TXW433A02, TXW433A04
Teleco TXK433A04


40
2
1
TELEMATIC
300.000
TL1, TL2
60
6
1
Transmission frequency must be accurate and stable
TKC
433.920
TSAW433
60
2
1
TORAG
433.920
S429 1, S429 2, S429 4
60
2
1
TORMATIC
DORMA
NOVOFERM
433.920
HS, Dorma HS43 1E, HS43 2E, HS43 3E, HS43 4E
60
2
1
MAHS, Siebau, Novoferm, Dorma
60
2
1
MHS, MHS43-1
60
2
1
Tormatic Novoferm Novotron 502
Tormatic Novoferm Novotron 504
MCHS43, MNHS433-02, MNHS433-04


40
2
1
TREMA
433.920
TO93TV1, TO93TV2, TO93TV4
60
2
1
TRESOR
433.920
TRESOR4 chinese remote control duplicator
2
1
TUBAUTO
433.920
DIGITAL 101 433
60
2
1
V2
306.000
V2 TRR1_306
60
8
1
Transmission frequency must be accurate and stable
318.000
V2 TPS1K
60
10
1
Transmission frequency must be accurate and stable
433.920
V2 PHOENIX series: Phoenix2, Phoenix2P, Phoenix4, Phoenix4P, TXC2 Contr.*, TXC4 Contr.*, TRC4 Contr. *, TXC2 Contr.47, TXC4 Contr.47, Handy2 Contr.47, Handy4 Contr.47, TRC4 Contr.47, TSC4 Contr.47, TRC4 Contr.92., DIMOEL TRC4



34
2
1
V2 TCP3
60
2
1
V2 TCP3, ARC3
60
2
1
V2 TCP3
60
2
1
V2 TPR
60
2
1
V2 T1SAW/433, T2SAW/433, T4SAW/433
60
2
1
V2 TRR1, TRR2, TRR4
60
2
1
V2 PMR2, PMR4
60
2
1
868.300
V2 PHOENIX series: Phoenix2-868, Phoenix2P-868, Phoenix4-868, Phoenix4P-868.
34
3
1
VISONIC
315.000
Visonic WT100, WT100A, WT101, WT101A, WT102, WT104,WT-201, WT-201A, WT-201WP, WT-201AWP



60
4
1
418.000
Visonic WT-100, WT-100A, WT-101, WT-101A, WT-102, WT-104,WT-201, WT-201A, WT-201WP, WT-201AWP
60
14
1
433.920
Visonic WT 100, WT 100A, WT 101, WT 101A, WT 102, WT 104,WT 201, WT 201A, WT 201WP, WT 201AWP
60
2
1
Visonic MCT-234, Visonic MCM-140
40
2
1
VSEG
433.920
CR SLIM
60
2
1
WAYNE-DALTON
433.920
Wayne Dalton S429-1, S429-2, S429-4, S429-mini


48
2
1
Wayne Dalton S425
48
2
1
Wayne Dalton E4F
40
2
1
868.800
Wayne-Dalton 4020 TX03-868-4
40
19
2
WECLA
CDS
433.920
Wecla 433, Wecla 433_2, CDS 433, CDS 433_2
60
2
1
WELLER
868.500
Weller MT87A3-2, Weller MT87A3-4
40
18
1
Weller MT87A1, Weller MT87A2, Weller MT87A4
40
18
1
ZULLAN
315.000
250TXA1H, 250TXA2H, 250TXA4H
60
4
1
Transmission frequency must be accurate and stable
OEM
315.000

60
4
1
Transmission frequency must be accurate and stable
Additional information:
Transmission frequency must be accurate and stable: it means that the original remote controls has a transmitter circuitry which frequency may be NOT accurate. Because the universal receiver has a good selectivity (narrow bandwidth), it may not work with bad transmitters that are not stable in frequency, while it works well with our remote control duplicators MULTI, MULTI-ST, FOUR, SENDER, SENDERBATT.
ChangeLog
2017-04-18
Allows receiving two different frequencies and/or modulation types at the same time: now the same receiver, for example, can manage simultaneously both 433.92MHz AM remote controls and 868.8MHz FM remote controls. The second frequency can be setup via parameter 11; to disable the second frequency, set it to 1 (1=disabled). The second frequency modulation can be set by parameer 12. (Thanks to Pawel for this idea)
Corrects a range issue while operating at 288-390 MHz; sensitivity was very poor at 315MHz
extends the range in other frequencies (403.55, 418, 433, 868MHz) by 30-40%;

Frequency
Range with old UniRec2
and MULTI
Range with new Unirec2
and MULTI
Range with new UniRec2
and MULTI-ST
303MHz OOK
30m
200m
240m
433.92MHz OOK
120m
190m
300m
868.3MHz OOK
240m
320m+
260m
Range measured with UniRec2 connected to 25/17/8cm wire antenna, eye-of-sight condition.

prevents receiver blocking in case of huge noise;
added parameter 11 (second receiving frequency, like parameter 5: 1=DISABLED) and parameter 12 (second frequency modulation, like parameter 9)
added modulation OOK with narrow bandwidth, to get higher sensitivity: can be used only with remote controls with good frequency stability.
added BOSS GUARDIAN 303MHz code management (thanks to Sash);
added DUCATI ALLDUCKS rolling code management (thanks Gaetano).
2015-04-03
Now it's possible to do a factory reset pushing Prog button 10 times, then pushing 4 times. (Thanks Thanos)
2015-01-14
UniRec1: added menu 7 to configure the output as: 1=normally open (default); 2=normally closed
UniRec2: added menu 7 to configure the relay outputs as: 1=normally open (default); 2=normally closed; 3=electric lock before open (when a valid code is received, the output will be activated and after 250ms even the other output will be activated. This is useful when an electric lock should be activated before activating the motor that opens the door/gate); 4=off before on (before activating the output, the other output should be disabled. This is useful to directly control the two phases of an
Some application notes about our receivers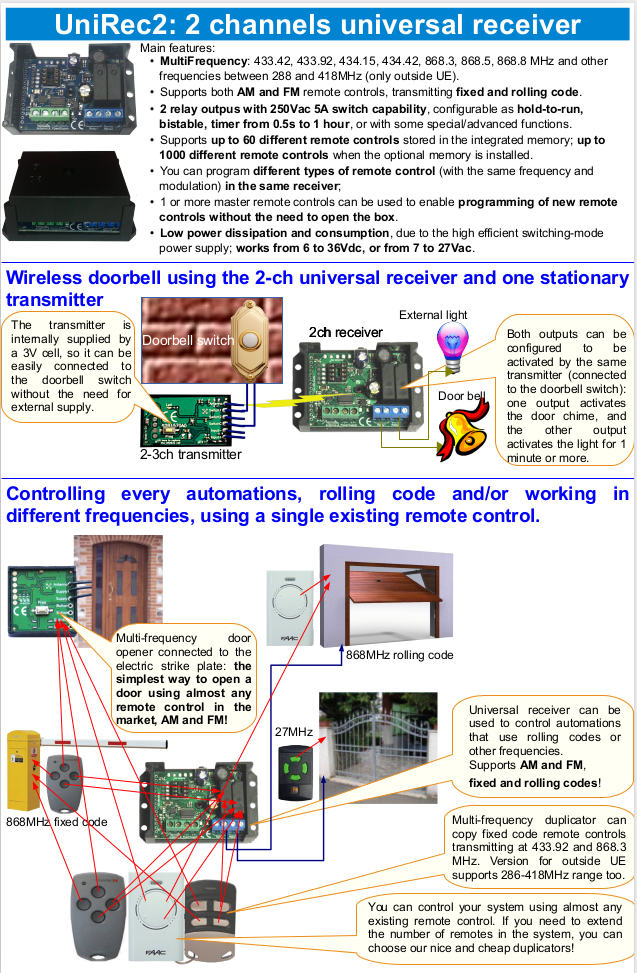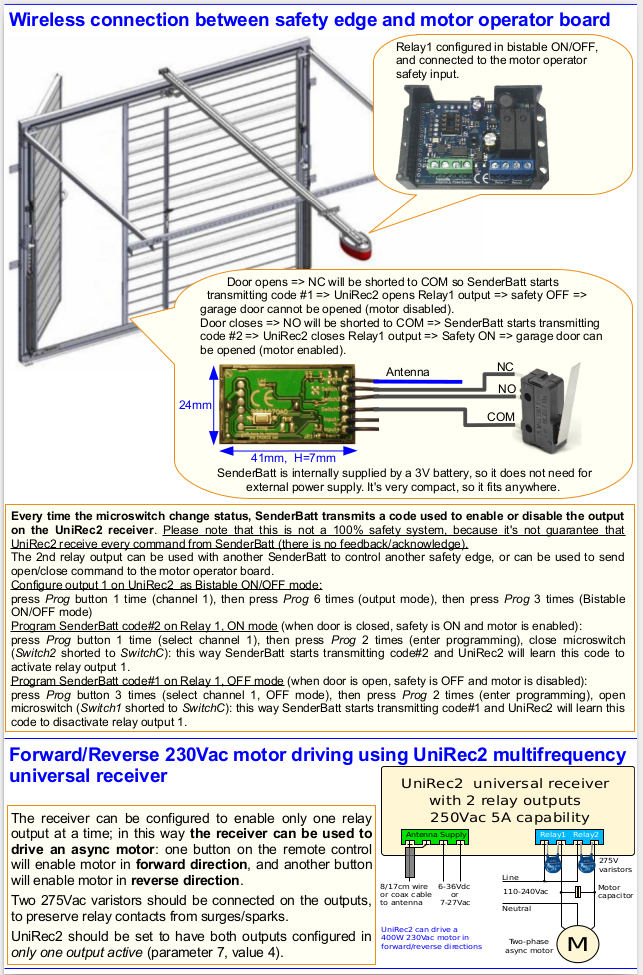 Alimentare:

Garantie:

Producator:

Dimensiune:

Numar de functii / canale: